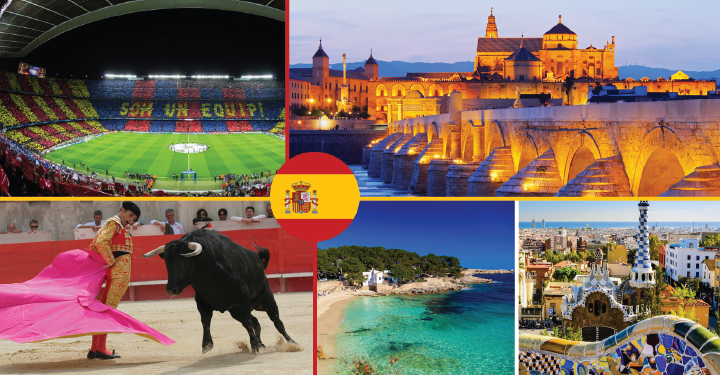 Compared to other Western European countries, e-commerce in Spain has developed slowly. Held back by the challenges of recovering from the recession, digital investment has lagged within Spain and international merchants have overlooked the country. But today, Spain's e-commerce market has grown to become the largest in Southern Europe and businesses expanding into Spain will find plenty of opportunities for further growth.
Spain is the fifth largest country in the EU by population and this country provides a key business market with an e-commerce sector recording the largest growth of any European country. The opportunities available for cross-border merchants to do business in Spain are due, in part, to the country's underdeveloped domestic solutions. Three out of every five Spaniards regularly shop online and, most importantly, more than half of all online purchases made in Spain are made on e-commerce websites based outside of the country.
Unless otherwise noted, figures in this article are sourced from:
ecommercewiki.org/Global_Ecommerce_Figures/Europe/Spain
thepaypers.com/ecommerce-facts-and-figures/spain/8
Spanish Consumers
Total population: 47 million
Internet users: 32 million
Online shoppers: 17 million
E-commerce sales: EUR 18.2 billion
E-commerce annual growth rate: 11.6%
Post-SEPA, it's simpler than ever to do business in Spain. The nation's economic recovery in recent years has been impressive, with the GDP growth rate at 1.6 at its highest and the consumer confidence index reaching 90.6, so it's a valuable market for online retailers to expand into no matter where they're from. With an annual e-commerce turnover of more than €18 billion and double digit year-over-year growth, tens of millions of Spanish consumers are spending more online, averaging over €1,000 per year and growing.
Though the internet penetration is relatively low for a country in Western Europe, the proportion of internet users that shop online is quickly approaching 100% and at least half of those people shop using their phones. The Spaniards who spend the most online belongs to the 35-54 age group. Debit cards are the most popular online payment method, with 61% penetration, and the most popular e-commerce product category is Apparel and Footware. Holiday shopping contributes to roughly one quarter of each year's e-commerce turnover and (like in Italy, the UK, the US and Canada) the biggest online shopping day is Cyber Monday.

Drivers and Barriers
Driver: Mobile
Spain is the leader in Europe in m-commerce, with half of all e-commerce shoppers in Spain having already made at least one purchase using their phone in 2017 (an increase of 15% compared to 2016). However, only 53% of online retailers in Spain are offering support for mobile payments, which gives a big opportunity for cross-border merchants to meet an unfulfilled demand in the Spanish market.
The popularity of direct carrier billing also contributes to so many Spanish consumers making purchases with their mobile devices. Direct carrier billing, which allows consumers to make a purchase using their mobile device and have the cost added to their phone bill, is seen as easier and more secure, which helps Spanish consumers feel more confident in m-commerce.
Barrier: Logistics
Though Spain is now a major e-commerce market, it was late to the game. One artifact of this delay is the country's underdeveloped logistics industry. While this has a definite negative effect on local retailers, it can actually be seen as an advantage for cross-border merchants. Because of poor logistics, Spanish consumers are accustomed to longer delivery times, allowing international merchants to compete with domestic providers on convenience. On the other hand, consumers in Spain desire a strong, customer-centric returns policy, which can be costly for out-of-country retailers.
Driver: Language
After Mandarin, Spanish is the second most spoken language in the world. Savvy retailers can see the value of localizing their e-commerce website for the Spanish market because it also allows them to market to large Spanish-speaking populations in Latin America: a very populous and rapidly-emerging e-commerce market, and it can also increase the brand's footprint with significant language minorities in USA, France and Portugal.
Barrier: Trust
Just because Spanish consumers want more options when they're shopping online doesn't mean that they'll take anything they can get. Like in most European countries, recommendations from friends and colleagues significantly influence purchase decisions. Shopping cart abandonment is common in Spain – if retailers don't provide enough detailed product information, a clear and flexible returns policy, and most importantly multiple payment options, they risk losing the sale. Offering Spanish-language customer service can also go a long way toward gaining trust and confidence from customers.
Spanish E-Commerce Facts
Largest e-commerce market in Southern Europe
Spanish consumers spend an average of €1,089 online per year.
55% of the e-commerce turnover is cross-border.
At least half of the online population shop with their smartphones.
The demographic that spends the most online is 35-54-year-olds.
Longer delivery times (3-5 days) are widely accepted.
Cyber Monday (the Monday after U.S. Thanksgiving) is the busiest online shopping day of the year.
The most popular payment method is debit cards, although credit cards, e-wallets and direct carrier billing are also popular.
The most popular product categories for online shoppers are Apparel & Footwear, followed by Food & Drink.
Spanish consumers are rapidly shedding their financial concerns, embracing impulse spending, and turning to their mobile devices for their online shopping. Building trust and organic brand awareness is key; while the market is far from crowded, for retailers to get the most out of Spain they must focus on customer experience and reputation. This becomes increasingly challenging the more saturated the market is, so if you're looking to expand your e-commerce business, now is the time to enter one of the most attractive growing markets out there. Spain, with one of the most populous markets in Europe and who speaks the world's second most common language, is hungry for cross-border e-commerce.
Expanding into a new cross-border market is always a challenge but can be very rewarding if done right. For the latest news and information about how to scale up your e-commerce enterprise into an international success, subscribe to the Payza Blog and follow us on Facebook and Twitter.